Our Sustainability Commitment
We believe in Sustainable Coffee for Everyone
We believe everyone needs to do their bit for the environment, companies included, that's why we're listing our Sustainability Commitment front and centre so you can see what we're doing, and our plans to become a part of a more sustainable industry.
Our mission is simple, to provide sustainable coffee for everyone. We've built sustainable practices from the ground up, making them the foundation in our business.
We're not there yet, but we're working to get all aspects of our business, from the coffee we pick, to how it arrives at your door to have the lowest environmental impact possible. Below you'll be able to see what we currently have, and what we're planning to achieve to becoming a sustainable coffee company for everyone.
Charity & Causes
We believe the biggest change we can make is to fund charities and causes who are developing sustainable solutions. That's why we're proud to work with the following companies and support their efforts:
1% for the Planet
Every year, we'll commit to giving at least 1% of our total sales to 1% for the Planet, regardless if we make a profit or loss in that year. 1% for the Planet supports a number of not-for-profit charities focused on Climate Change, Land, Water, Food, Wildlife & Pollution. We hope in supporting these charities we can find solutions to these issues faster, and become a greener planet.
Ecologi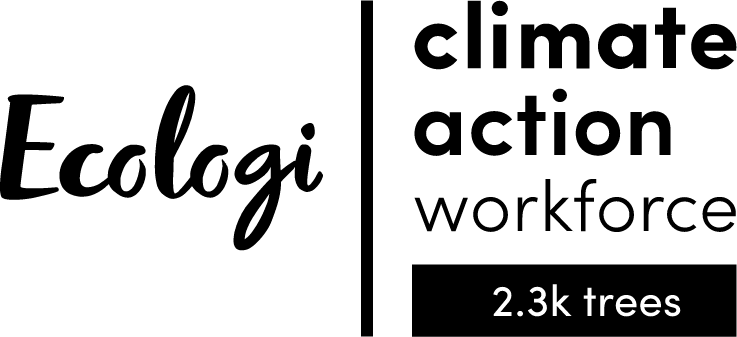 Every month we plant trees via Ecologi to offset our operations carbon footprint, you can see where are trees are being planted, and what projects we're supporting via Ecologi, as well as our Journal and Newsletter!
If you'd like to offset your own carbon footprint, you can sign up here to Ecologi. In doing so you'll plant 30 trees in our Halvo Forest, and you'll get an extra 30 trees in your forest too!
World Coffee Research
For every 1 kilogram of coffee we sell, we donate 15p to World Coffee Research. World Coffee Research funds projects are designed to enhance the livelihoods of the producers who are the stewards of both quality and productivity. By supporting World Coffee Research, we're supporting the development of higher quality coffee, more productive coffee farms and a more sustainable livelihood for coffee farmers.
Project Waterfall
We are a proud supporter of Project Waterfall, a charity helping to bring clean water, sanitation and education to coffee-growing communities across the world.
Regardless of where a community is, or how big it is, Project Waterfall's aim is to implement tangible and sustainable solutions that create access to water and improve the quality of it. Since 2011, they've raised over £1.5million and changed more than 70,000 lives in Nicaragua, Tanzania, Rwanda, Vietnam, Uganda, Kenya and Ethiopia.
We donate 15p from every kilo of coffee we sell to help bring an end to the water crisis in coffee-growing communities.
---
Our Product
Our coffee is the heart of what we do and we're always testing new ways to improve it for everyone. Below you can see what our current product is, who we trade with, and how it gets to you. Wherever we can, we'll always opt for businesses who are local, independent and supporting causes.
Our Operations
Green Coffee Suppliers
Our suppliers currently are Mercanta, Falcon, Green Coffee Collective, Caravela, Raw Material & Sucafina who use recyclable and compostable bags and packaging.
We use a fully 100% electric drum roaster. This removes the need for any fossil fuels within our operations. You can read more about our roaster here.
Our energy provider is from Bulb - who provide use with 100% renewable energy and offset any carbon emissions from any gas.
Incoming Deliveries and Stock Packaging
If at all possible - we try to either re-use or recycle any extra boxes, or packing material for orders to you if in a suitable condition. If not, we'll recycle or reuse where possible.
Waste
Wherever we can - we aim to reduce our waste as much as possible - here are the main categories we see waste in our operations:
Used coffee grounds and chaff from roasting - this used as a fertiliser and any excess is freely and readily available to the local community we are based in.
Packaging and stock - any suitable boxes, packing paper and material is re-used in our orders if at all possible.
Paper and sticker sheets backing - any paper is recycled, and our friends at PRINT.WORK provide a service where they can recycle the backing sheet from the stickers we use.
Packaging
Our packaging was a big one for us - so big in-fact we wrote a whole blog post about it! 
Coffee Bags
Our coffee bags are Plastic Free certified and can be recycled at home in your paper & cardboard recycling! They're produced by Sirane Packaging in Telford from renewable sources and have won multiple sustainability and recycling awards!
Labels & Cards
Our labels and cards are printed by the lovely folk at PRINT.WORK in Leeds. These are printed on recycled, and recyclable paper. The ink is non-toxic and partly made from organic biomass, contains no animal products and is food safe.
Our postal labels (the labels with your address!) are from DYMO and are made from 80% recycled paper, FSC Certified and are recyclable too.
Shipping Boxes & Tape
We purchase our shipping boxes & tape from The Walsall Box Company based outside of Birmingham. Their boxes are FSC Certified, and made from recycled paper and cardboard, and of course, recyclable too.
The tape we use is made from paper and a natural rubber adhesive that can be recycled with boxes in your household paper/cardboard recycling. 
Shipping & Delivery
We ship the majority of our orders with Royal Mail, and larger orders with DPD. To minimise our footprint to and from the post office, we only ship twice a week. Both Royal Mail and DPD say each parcel delivery is carbon neutral, and just to be sure - we offset our carbon footprint on every delivery too.
Website, Data & Your Privacy
Our website runs off Shopify, a carbon neutral company. All payments are processed via Shopify's own system. If we need to share your data with third parties, we'll only do so if absolutely necessary, here are some examples:
Sharing your address with Royal Mail or DPD to deliver your order.
Your email with Klaviyo, our email newsletter provider, to send your our emails if you've opted in.
Your order details (including name and address) to a wholesale distributor to send you a replacement of a faulty product you've bought from us. (On occasions like this, we'll contact you first).
We will never sell your personal details to data brokers, or third parties.
You can view more about how we use your data in our Privacy Policy. If you have any questions on how we use your data, please get in touch.
---
Our Plan
We know we're not perfect, so below you can view our plans to improve our business to make sure we're becoming better for good.
You can now see all of our plans via our Halvo Roadmap!
Last Updated - 17th January 2023
---
Any Questions?
If you have any questions, suggestions or comments about anything in our commitment, please feel free to get in touch. We'd love to hear from you.